Winter Recreation
Enjoy the great outdoors this winter by playing in the snow! Charlevoix averages around 120 inches of snowfall every winter, so you will get plenty of it to enjoy. The Charlevoix area's winter recreation tops the charts in the Midwest with a wide variety of things to do.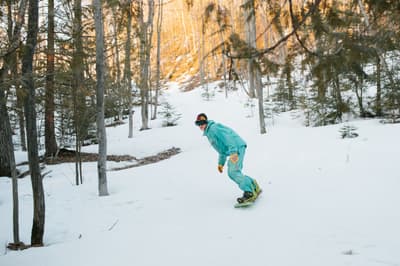 Mt. McSauba
Mt. McSauba is ranked as one of the top three small ski areas in the United States. From atop the hill are views of Lake Michigan and the surrounding area. Mt. McSauba is perfect for the beginner or intermediate skier with six runs, four rope tows, lighted skiing, and a terrain park. Equipment is available for rental and group lessons and private lessons are also available.
Regional Ski Hills
Charlevoix is centrally located to four ski hills. Each of these resorts is about 40 minutes away from Charlevoix.
There is no better way to get out and enjoy the quiet calming effect of winter in Charlevoix than with cross-country skis or snowshoes. There are many trails in the area to enjoy. Cross-country ski and snowshoe rentals are available at Mt McSauba. Fat bike rentals at Revolution Bike.
Charlevoix X Country Ski Trail, Snowshoeing, Fat Tire Biking
Near Mt McSauba this area offers three loops for levels from novice to advanced. There are 80 acres of naturally wooded land with a variety of flat and sloped terrain and beautiful views of Lake Michigan. A lighted 2k groomed trail provides for winter fun even in the dark. 5 miles of trails in total.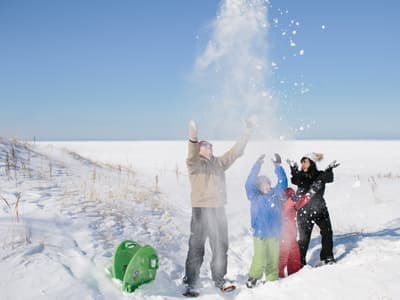 Located off Bells Bay Road this State Park has 3 miles of ungroomed trails for cross-country skiing and snowshoeing. There is also plenty of open acreages that allow for going off the beaten path.
A 26-mile trail from Charlevoix to Harbor Springs for non-motorized activities including cross-country skiing and snowshoeing. Parallel to the Lake Michigan shoreline this trail offers great views of the lake and wildlife.
Click here to view more awesome wintertime trails.
Snowmobile
Chandler Hill Trail
The 34 mile Jordan River State Forest Trail begins east of Walloon Lake Village near the intersection of Howard & Chandler Roads and connects to the Jordan Valley Trail to the south and the Wolverine Trail to the north.
Map of Northern Lower Michigan Snowmobile Trails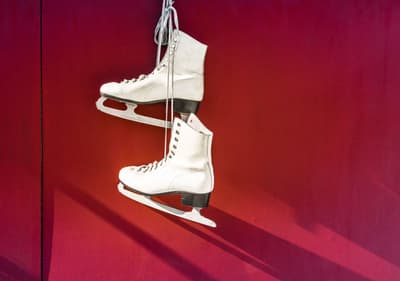 Ice Skating and Sledding
Winter would not be complete without a trip to the outdoor ice skating rink. Visit the Mt. McSauba Recreation Area for an outdoor ice skating rink. Ice skating rentals are available at the heated warming house. Right around the corner from the ice rink is a sledding hill for all ages. This hill will be sure to bring a smile to your face. Bring your own sled, Mt. McSauba does not have sleds/tubes available for rental.
Equipment Rentals
Whether you are trying a new activity or simply don't have the equipment, you can get a variety of equipment rentals in and around the Charlevoix area. Following businesses offer rentals to the public, we would encourage you to call ahead to reserve your equipment.
1. Fat Tire Bikes | Revolution Bike
2. Snow Shoes | Mt. McSauba Ski Hill or Charlevoix Public Library
3. Cross Country Skis | Mt. McSauba Ski Hill
4. Skis or Snowboards | Mt. McSauba Ski Hill, Boyne Mountain/Highlands, Nubs Nob, Schuss Mountain
5. Rafts, Kayaks or Canoes | Jordan Valley Outfitters
6. Ice Skates| Mt. McSauba Ice Rink